Invisalign® Provider in Indian Trail
Invisalign is an orthodontic treatment system used as an alternative to traditional braces. Many people, especially adults, find that wearing braces for an average of two years is undesirable and choose Invisalign as an esthetically pleasing option for treating their misaligned smile. Most adults complete their treatment in less than one year, which makes this aligner system desirable; however treatment times depend on the specific alignment problems of each individual patient.
The Invisalign system is not appropriate for all cases of misalignment or complex bite problems, and Dr. Henry J. Ernst will help to determine whether this system is appropriate for your orthodontic needs. Invisalign was designed to correct the following:
Over crowding of the teeth where there is not enough room for all of the teeth to fit comfortably and straight
Spaces between the teeth
Overbite
Crossbite
Relapse after traditional braces have been removed and tooth movement has occurred
At Pleasant Plains Dental, we have a passion for helping patients achieve a healthy and beautiful smile. Please contact our practice to schedule a consultation to determine whether Invisalign is the best choice for creating the smile you have always dreamed of having.
Can Invisalign fix an overbite?
Invisalign can correct a variety of alignment or bite problems. One common problem we often encounter with patients is an overbite. An overbite occurs when the upper teeth project further than or cover the lower teeth. While Invisalign typically can correct bite problems like an overbite, Dr. Ernst will have to thoroughly examine your teeth to determine if Invisalign is the best treatment for you.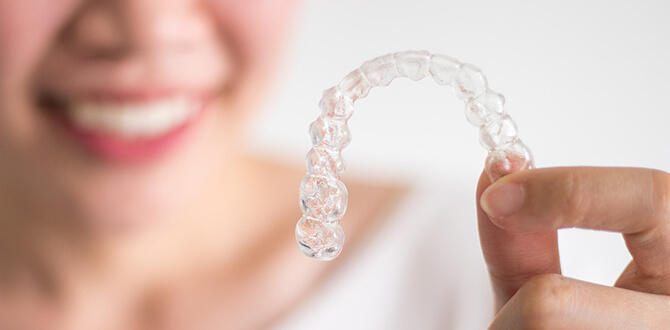 Do I have to wear a retainer after clear aligners?
A retainer prevents your teeth from shifting back to their original position. If you don't use a retainer to hold your teeth in their new position, you risk your teeth shifting back to where they were. Not only will a retainer prevent teeth shifting, but a retainer will also give your jaw time to stabilize. You won't have to wear a retainer forever, but it's always best to practice wearing your retainer until our team directs otherwise.
What can I eat with clear aligners?
Our team may advise you about food restrictions during orthodontic treatment. However, patients undergoing clear aligner therapy have less restrictive dietary guidelines. One great benefit is that clear aligners are removable. The ability to put your clear aligners aside while eating won't affect your daily eating habits.
Contact us today to schedule a consultation for you or a member of your family.