Comfortable Dental Care in Indian Trail

We firmly believe that a dentist office should be warm and inviting, and that our patients' comfort should be a top priority. Our Indian Trail dental office is designed with you in mind, from modern amenities that make your visit enjoyable to relaxing sedation options to keep you comfortable during treatment.
3D Cone Beam Scans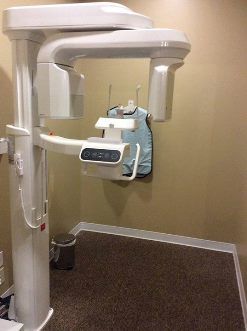 Our practice is proud to use 3D digital imaging technology to help us provide the absolute best results in dental implants. The 3D cone beam CT offers the most precise 3D images of the mouth and jaw, including the nerves and sinuses that should be avoided when placing dental implants. Most importantly, this 3D imaging helps us thoroughly evaluate patient's bone density and volume so that surgical planning is most accurate. In just seconds, the scan is complete and we have remarkable images of your existing teeth, bone, nerves and tissues to guide us during your dental implants procedure.
Modern Amenities
Our office has a variety of the latest patient amenities to make it feel more like home, so you can relax during your visit and know you're in capable hands. We want you to feel as comfortable as possible from the moment you walk through our doors until the moment you leave, which is why we have it all: from complimentary beverages and a kids' area in the lobby to TVs and headphones in every treatment room. We know you'll enjoy your visit to Pleasant Plains Dental.
Stress-Free Visits with Sedation Dentistry
Dental anxiety is an issue that patients of all ages face. We want your experience in our office to be effective, efficient, and pleasant, so we aim to ease your fears in the dental chair with care that is at a pace that you find comfortable. Additionally, we offer a variety of relaxing sedation options for patients who are nervous to undergo treatments.
Most patients report that they experience little to no after effects when they've undergone sedation. However, we highly recommend that you have someone drive to you and from your appointment for your safety.