Start-to-Finish Dental Implants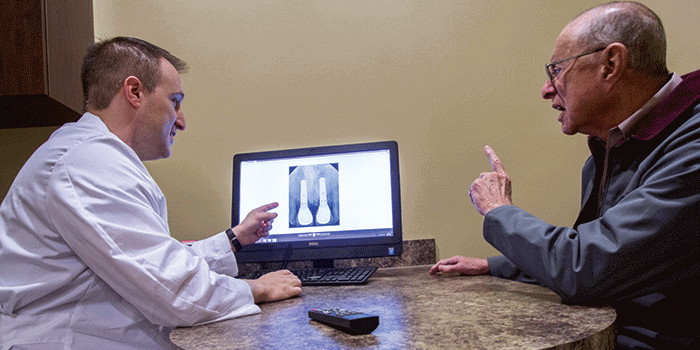 Our Indian Trail dentists are trained in both the placement and restoration phases of implant dentistry. This means that Pleasant Plains Dental is your one-stop shop for dental implants and you won't have to drive all over town for specialist appointments. Let our team give your smile a second chance.
Dental Implants FAQs
What is a
dental implant

?

A dental implant is a popular and very effective way to replace missing teeth. They are designed to blend right in with your existing teeth so that when you smile you one will ever know the difference. A dental implant is a safe and excellent long-term solution for restoring your smile.
How does a dental implant work?
By using the process known as osseointegration, a dental implant attaches itself to the bone cells in your jaw. This process is extremely strong and the bone actually heals around the implant and "combines with the bone" to hold it in place. The prosthetic tooth is then placed securely onto the implant and adjusted to match your other teeth.
What are implants made of?
Today's implants are predominately made of titanium. This metal is biocompatible that contains a unique property which fuses directly with the bone.
How are implants placed?
Most dental implant surgeries can be performed right in your dentist's office. A local anesthetic is usually adequate for these procedures but various other forms of sedation (such as nitrous oxide/ laughing gas) can be used. Your dentist will bury the implant flush with the jawbone but underneath the gum to protect it during the healing period. Some patients are able to have the crown attached during the initial surgery, but most require the implant to heal around the bone first. Each procedure is slightly different depending on the patient.
How long do dental implants take to heal?
Healing times will vary depending on the patient, but typically takes two to four months. The dentist can apply the crown once the implant is fully healed and can handle the extra forces of biting.
Are dental implants right for me?
Whether you have lost a tooth by accident, decay or disease, dental implants are an excellent option for just about everyone! If you feel that you are a good candidate for dental implants, schedule an appointment we will go over all your options with you and answer any questions.
Benefits of Dental Implants
Dental implants are the preferred method of replacing one or more missing teeth. They are surgically placed into your jawbone, and their biocompatible materials fuse with the existing bone tissue to provide a solid anchor for restorations such as crowns and bridges.
Implants look, feel, and function like natural teeth.
Bone loss that naturally happens after you lose a tooth can be prevented with implants.
Implants help preserve the shape of your jaw and face by supporting your cheeks and lips.
Our dentists have gone through extensive training in all aspects of implant dentistry. At your consultation, we will guide you through the phases of the implant procedures and discuss your restoration options to help you make the best decision for your oral health.

If our team determines you are a good candidate for dental implants, we will discuss the best restoration options for you and thoroughly review the procedures to help you feel comfortable.
At Pleasant Plains Dental, we are proud to utilize the latest 3D imaging technology when placing dental implants. This 3D Cone Beam CT scan is essential for providing the most accurate, comfortable and successful dental implants possible. The advantages of 3D digital scanning over traditional imaging are numerous. Not only is the scanning process safe, comfortable and quick for the patient, but it also allows the following for your dentist:
Examine cross sections of a patient's bone structure to analyze the quality, volume, and density of the bone required to anchor the dental implant
Locate the precise placement and depth of implants
Determine the appropriate type and size of the implants
Locate and avoid sensitive areas such as nerves and sinuses
Implement the most accurate and personalized surgical planning
Schedule a complimentary dental implant consultation.
Dental Implant Restorations in
Indian Trail, NC
Crowns

Crowns are the preferred implant restoration when you are missing a single tooth. The crown will be molded for a perfect fit among your remaining teeth.

Our Pleasant Plains team is fully equipped to place both the implant and your crown right here in our Indian Trail office.

Bridges

Bridges are a great restoration option when you are missing a few teeth in a row, but not enough to require dentures. When placing a bridge restoration, implants will be placed on either side of the gap. The bridge consists of two parts: crowns on top of the two implants and a bridge with false teeth in place of the remaining missing teeth. Bridges help stop the surrounding remaining teeth from shifting into the gap caused by missing teeth.

Denture Stabilization

Denture stabilization with mini implants helps patients who currently have uncomfortable, ill-fitting dentures once again have teeth that feel secure. To aid in denture stabilization, mini implants (or MDIs) are placed in the jaw. New dentures are fabricated that sit on top of the MDIs and "click" into place, meaning the dentures will not slide or rub your gums. Patients with dentures stabilized by MDIs report less discomfort with their dentures due to a better fit and less movement.
Am I a Good Dental Implant Candidate?
If you are missing teeth, struggling with dentures that fit poorly, slip, rub, and click, or you wear a retainer with false teeth, dental implants could help you feel more confident in your smile once again. We are happy to meet with you to discuss your options and help you determine whether or not dental implants are right for you.
Call our office today to schedule your dental implant consultation.