Digital Cone Beam Tomography: Perfect Placement For Dental Implants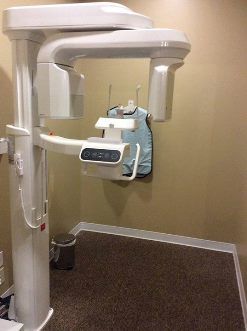 Having changed the face of dentistry, dental implants have become a pleasing and permanent solution for replacing missing teeth and a welcome alternative to dentures. In turn, dental implants are more durable, last longer, and are easy to care for. Yet, advancements in dentistry continue to make even the most promising solutions more predictable. While Digital Cone Beam Tomography (DCBT) has been present in the medical community for decades, it offers a clear advantage for dental professionals and patients alike, allowing for perfect placement for dental implants.
When it comes to dental implants, planning is just as important as placement. Using the digital cone beam method, dentists are able to analyze and plan for treatment, in a virtual sense. For instance, the images generated through the cone beam scan are 3-D images, as opposed to 2-D. They accurately show details of the head and entire oral cavity, including bone, sinuses, cavities, nerve canals, and soft tissues. Whether planning for single-tooth replacement, anterior or posterior replacement, or full upper replacement, the 3-D scan becomes invaluable to dentists as they assess a patient's jaw and bite while choosing the exact placement of the implants. It also serves as a screening mechanism to detect any potential issues before the procedure. With 90% less radiation, patients that receive dental implants using digital cone beam tomography experience less discomfort and shorter recovery time.
While many label dental implants as purely "cosmetic," dentists note that dental implants have a dramatic effect on oral health. To explain, when individuals have missing teeth, they are more likely to develop tooth decay, an uneven bite, or teeth that begin to shift out of place. They may also experience bone loss. In turn, when teeth are misaligned, they are difficult to clean.
Customized Dental Care
At Pleasant Plains Dental in Indian Hills, Dr. Henry Ernst and the team value high quality dental care that is customized to help you achieve a remarkable result. That's why we are proud to incorporate Digital Cone Beam Tomography for placement of dental implants. While this allows us to offer patients a higher standard of dentistry, it also allows for greater precision and a better experience overall.
To learn more about how digital cone beam tomography can benefit you, call Pleasant Plains Dental today.
Posted on behalf of Dr. Henry J. Ernst, Pleasant Plains Dental