Orthodontic Treatment Options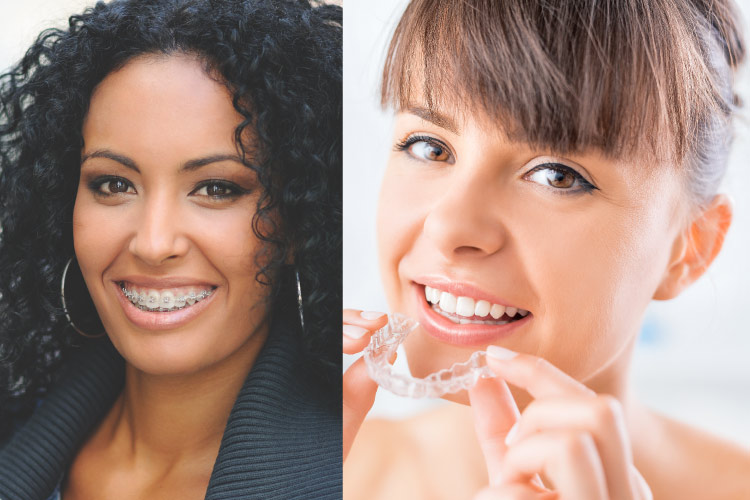 Orthodontic treatment is a big step toward improving the way your smile looks and feels, and is often a substantial financial undertaking. We're here to help you understand your options and make the best decision that'll address your unique smile needs. Read on to get started.
Braces
Although braces aren't the only type of orthodontic treatment out there, they are certainly the most common, well known, and versatile. Braces can be used to address a whole slew of mild to severe issues, including crooked teeth, crowded teeth, gapped teeth, and a misaligned bite. Traditional braces are time-tested and known to deliver exceptional results with either metal brackets or tooth-colored ceramic brackets. However, the next two options we'll cover can feel less obtrusive so are often more popular with adults and older teens.
Clear Aligners
To correct mild to moderate alignment issues, clear aligners are available as an alternative to traditional braces. Aligners are more comfortable and much less noticeable than metal braces. The process consists of a progression of trays that will gradually reposition your smile. In contrast to braces, clear aligner therapy does not disrupt mealtime and oral hygiene, since the trays are removed when eating, drinking anything other than water, brushing, and flossing. Here at Pleasant Plains Dental, we offer ClearCorrectTM and Invisalign® aligner therapy.
Six-Month Smiles
In addition to clear aligners, we also offer Six-Month Smiles as a way to straighten teeth. This method is a state-of-the-art technique involving tooth-colored brackets and "shape memory" wires that quickly and efficiently move the teeth. Six-Month Smiles typically takes just six to nine months to achieve the desired result.
Orthodontics in Indian Trail, NC
Orthodontic work addresses more than just cosmetic concerns; straighter teeth are easier to keep clean and strong, thus allowing for a healthier mouth. So if you or a loved one is thinking about orthodontic work, contact our office to schedule a consultation.